Ensuring the Safety of Employees and the Environment
Gregory Drilling is a drug-free and safety first company that places safety as our top value. Our employees undergo drug and alcohol testing upon hire, as well as post-incident, for reasonable suspicion, and random selection.
Each employee undergoes extensive professional and safety training, helping to ensure our crews and our equipment are in compliance with all relevant regulations and minimizing risk on project sites.
All equipment is inspected daily to guarantee it is in proper working condition and does not pose a danger to the safety of workers or the environment. Our team has experience with OSHA, MSHA, DOT, and other client-specific regulatory requirements. Our safety program ensures Gregory Drilling crews are compliant with relevant regulations.
Safety Training and Certifications
Gregory Drilling employees receive extensive safety and professional training that includes, but is not limited to, the following.
National Drilling Association – Drilling Safety Certification
Gold Shovel Standard Certified Excavators
MSHA Certified Instructor Part 46 and 48
Exxon-Mobile LPS Instructor
PG&E Gold Shovel Instructor
OSHA 8 Supervisor Training
FERC Approved Driller
Underground Utility Awareness training
OSHA 40 hour HAZWOPER and annual 8 hour refresher
First Aid / CPR
Forklift and Skid Steer training
Defensive Driver and Fatigue Awareness training
American Petroleum Institute (API) Worksafe Practice 1646 training
Shell 12 Life Saving Rules and Permit-to-Work training
BP Safety training
Exxon and Chevron LPS (BBS) training
BNSF and UPRR Railroad Orientation
Erailsafe and TWIC certification
OSHA 30 hour Hazard Recognition training
OSHA 10 hour Construction Safety training
Fall Prevention and Protection Competent Person
Confined Space Entry Awareness
Supervisor Reasonable Suspicion training
Construction Ergonomics training
Medical Surveillance Monitoring and D&A testing
Investing In the Best Equipment to Ensure Employee and Environmental Safety
Gregory Drilling invests heavily to ensure clean, safe work sites. We own state-of-the-art equipment to enable us to drill safely in any soil condition. Our fleet mechanics regularly maintain every piece of equipment to ensure it is ready for the job. One example of our investment in safety is our mud recycling systems. We use our fleet of mud recycling systems to contain all drill cuttings and drilling mud, then transport it to a controlled staging area, keeping your site clean and maintaining a safe working environment for everyone on the job site. Our tool handling devices increase efficiency, increase crew safety,  and reduce costs. We pass the savings on to you – resulting in lower project costs. These are just a couple of the ways we invest to increase safety on every job site.
Gregory Drilling has a core crew of employees that have been with us for a minimum of two years; many have been with us for more than five years.
Contact us today to talk with a drilling professional about your drilling projects.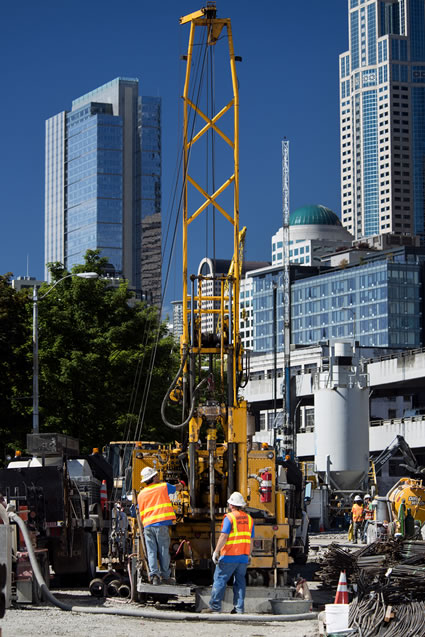 "Gregory Drilling is a top notch contractor in both safety and quality!"
Matthew Clark
Trane Commercial Systems
Redmond, WA
More